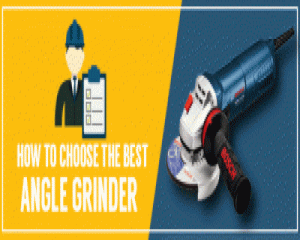 An angle grinder is a versatile and portable solution to cutting, grinding and polishing that every contractor should have in their tool box. It removes rust, strips off paint cuts through concrete and metal. By fitting different attachments or wheels, an angle grinder can be used to cut, sand, polish and sharpen various materials. This is a tool that can perform different types of jobs with ease. Grinders are handheld power tools that can be powered in three different ways. It can use a petrol engine, electric motor or compressed air. You can select the right one depending on your preference and taste. Which angle grinder is right for you? Before you buy any grinder, there are a lot of factors that you need to consider. Always go for a product that is tailored to meet all your needs.
Factors To Consider When Buying The Best Angle Grinder
Different people will have different preferences when it comes to choosing the right angle grinder. This will depend on the main use that they are buying the tool for. If you want to get the best tool on the market, it is important to read through the following things that you should know before making a purchase.
Type Of Grinders
There are different types of grinders that you will come across, and they come in different styles. One of them includes the bench-top grinders which are secured to a bench for maximum control.
Another type of grinders that you will come across includes portable grinders that can be found as either angle grinders and die grinders. They are usually smaller and handier than bench-top grinders.
Another type includes the angle grinders are maneuverable and versatile. They are great tools for smoothing, cutting and sharpening among other activities. Lastly, you will also find die grinders that are designed for one-hand operation. They have smaller blades and a higher speed for fine working in tight spaces.
Size
It is also important to consider the size of the grinder before you purchase. Bigger grinders will be perfect for handling larger jobs.
The size of the grinder is determined by the disc not the overall length of the machine. Bigger sized grinders use large wheels making them ideal for big jobs. Professionals go for larger grinders because they work fast on tough jobs.
There are also other grinders that are small. These types of grinders spin at a faster speed hence giving the grinders the power to cut and polish metal. Depending on the type of job you do or your preference, you can either choose a small grinder or a large grinder.
Weight
Grinders come in different weight depending on the model that you choose. There are those that are designed with a light weight while others are a bit heavy.
What is heavy will vary from one individual to the other depending on your strength. Even a lightweight grinder can get heavy after using it for some time.
Choose a grinder with a weight that you are comfortable with and one that will provide you with an easy operation. This will help you to handle your jobs perfectly well without any difficulties. A perfect grinder that is not too heavy or too light will be a great purchase.
Disc Size
Discs come in different sizes. Generally, the larger the disk of a grinder, the more powerful the motor of the machine is. Handymen find grinders with smaller discs great because they allow precision when you are performing smaller jobs than it would be when you are using a standard grinder.
Motor Power
The voltage, wattage and amp rating vary between grinders. Many of the people will prefer buying a machine with a power ranging from 110 to 230 volts AC, and the wattage range from 500 to 2500 watts.
Another thing that you can consider is the amp rating of the machine which can be from 4 to 15.
If you are looking for an angle grinder for use in household tasks, you may go for one with a lower rating, and it will be sufficient for handling your job. Professionals can go for heavy-duty angle grinders with more amps in order to handle different types of projects with ease.
Speed Ratings
You should also pay attention to the speed of the particular grinder that you want to buy. You want o bring home a powerful machine that works quickly to get all your jobs done to perfection.
Basically, hand-held angle grinders have discs that make around 5,000 to 10,000 revolutions per minute.
This means that the tools can perform a number of grinding, sanding or cutting. This can also lead to high risk of injury if the machine is not handled with care. It is important to ensure that you are well protected (with safety equipment) to avoid cutting yourself accidentally.
Level Of Comfort
Every tool that you select should be comfortable to use regardless of its size. If you go for a machine that is not comfortable to hold, you might end up finding it difficult to do your jobs to perfection.
There are two things that determine the comfort of the grinder which is the size and weight.
It is important to go for a compact unit that will allow you to hold for a long period of time without getting tired. Some of the grinders are more comfortable than others because they are designed with anti-vibration handles hence taking comfort to the next level.
Wheels And Accessories
This is also another important thing that you should put in mind when you are selecting the right angle grinder. Grinders are versatile tools with discs that can be interchanged, and users can also install different types of wheels and other accessories.
There are different types of wheels and brush attachment styles that are available. It is important to read the packaging and usage guides to ensure that you are purchasing the right product that will perform the desired tasks perfectly well.
Safety
The safety of the angle grinder is very important. You do not want a machine that will leave you with injuries. Grinders have a high risk of injuries as compared to other tools that you may have.
It is very important for the potential users to familiarize themselves with the safety precautions before using the grinders to ensure that you are safe.
For added safety, you can look for a grinder with other features such as eye shield that will help in preventing flying debris from getting into your eyes. Always ensure that you learn to use the machine well and this will minimize the risks of getting injuries.
Handle
It is great to look at the adjustable side handle that makes the machine easy to use for both right and left-handed people. The more positions that are available the more versatile the machine is.
You can also look at the presence of anti-vibration handle which will make the machine more comfortable to use for an extended period of time hence help in reducing fatigue.
A good machine with a handle that is comfortable to hold gives you the opportunity to fully control the machine as well as achieve easy maneuverability. This will help you to carry your job perfectly well without any strain.
Where To Buy Angle Grinders In Nigeria
You can shop online for good quality angle grinders at Jashsupplies.com. You don't know how to shop online? or Send an email to info@jashsupplies.com to Request For Quote.
Final Words
Selecting the best angle grinder is not a simple task for many people. This will be more difficult if you do not know the key things to look for when you are purchasing a perfect angle grinder.
After taking into consideration the above factors, you will be able to get the perfect angle grinder that will meet all your job requirement needs. Always buy a product that is easy and comfortable to use, and it can perform different types of functions.
Buy a powerful machine from recognized manufacturers like Bosch & Powerflex, and you will be assured that you are getting the right product.