What Are Safety Shoes?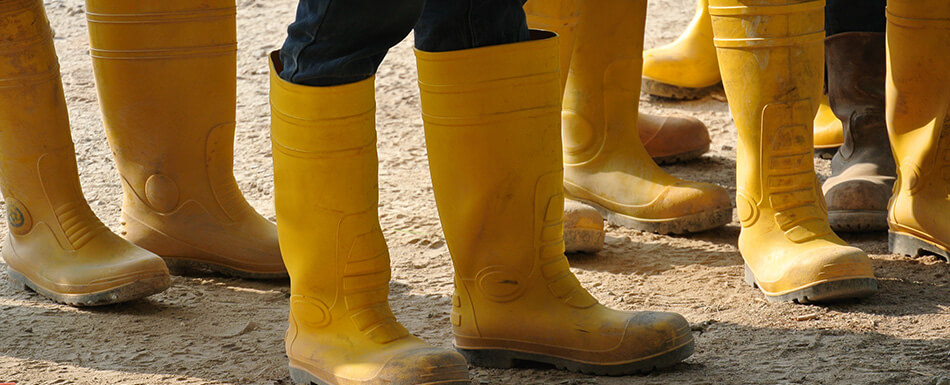 Many of us work in an environment where it's important to make sure we have suitable footwear. Safety shoes can make a massive difference when it comes to remaining injury-free in the workplace.
Often referred to as steel toe cap boots or rigger boots, safety boots and shoes come in a variety of styles and fittings depending on your requirements and what the needs are within your role. If you're someone that does a lot of work outdoors on a construction site, for example, a pair of safety boots with a solid, substantial sole is probably the wisest option as they will provide you with the best protection against the elements as well as any hazards. On the flip side, a pair of safety boots may not be needed if you work in a kitchen, here safety shoes with a slip-resistant sole are likely to serve you better.
Not only have safety boots served a practical purpose, but they have also had their moments in fashion too, particularly in the skinhead and punk subcultures where an industrial/military look is the one to go for.
Here we're going to take a look at what makes a safety shoe and why, as well as the different types available and what you should look out for when buying safety footwear.
Safety Shoe Materials
1) Toe Cap – Even though they're often referred to as having steel toe caps, this isn't necessarily the case. Sometimes the reinforced toe cap in safety boots and shoes can be made from composite materials, plastic such as TPU (thermoplastic polyurethane), or even aluminum.
As all safety boots are made for different uses, the minimum requirements from a toe cap vary from boot to boot. Regardless of this and the materials that they're made from, any protective toe cap should withstand a minimum of 100 joules in a drop test.
2) Upper – Most safety footwear will have smooth or nubuck leather uppers as opposed to manmade materials. Some safety shoes are also made with textile or synthetic uppers such as micro-velour, these are quite significantly more breathable so work well in hot conditions, however, leather is a much more stable material so offers greater protection against the elements and hazards.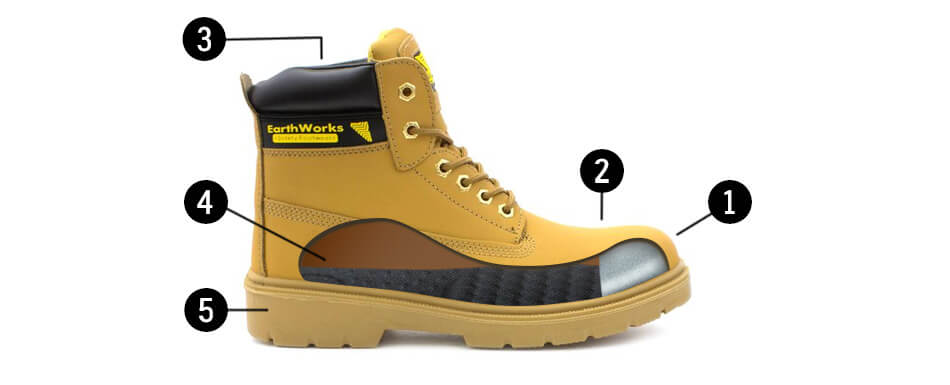 3) Lining – As the lining is in direct contact with the foot, it's important it is made from a material that allows breathability, absorbs moisture, and dries quickly. Most linings in safety boots are made from materials such as cotton, wool, or leather, or thermoregulating textile composites as all of these have those qualities.
4) Insoles – The insole is designed to offer protection for the feet as well as comfort, with that in mind, most insoles in safety shoes are made from leather or non-woven material such as wool. These materials are durable, absorb moisture efficiently and dry quickly, making them ideal for insoles.
5) Outsoles – The outsoles on safety boots are most commonly made from polyurethane, TPU, or rubber. All of these materials have different characteristics, so it's important to consider this when choosing the right safety footwear for you.
Some safety shoes may also have additional padding for support, heel caps, and scuff caps. Whilst not present in every case, they should definitely be considered, especially if you use your feet to operate heavy machinery.
Protection
Safety footwear was a concept developed at the beginning of the 20th century as a response to the increased awareness of health and safety at work. During this time, laws on compensation and workers' rights were also being enacted so it became a less expensive option for companies to prevent an injury than to replace an injured worker – as was common practice prior to the new laws.
Foot injury can be debilitating and can be the difference between being able to work and not. Wearing safety shoes or boots can help prevent many injuries and not just to your feet: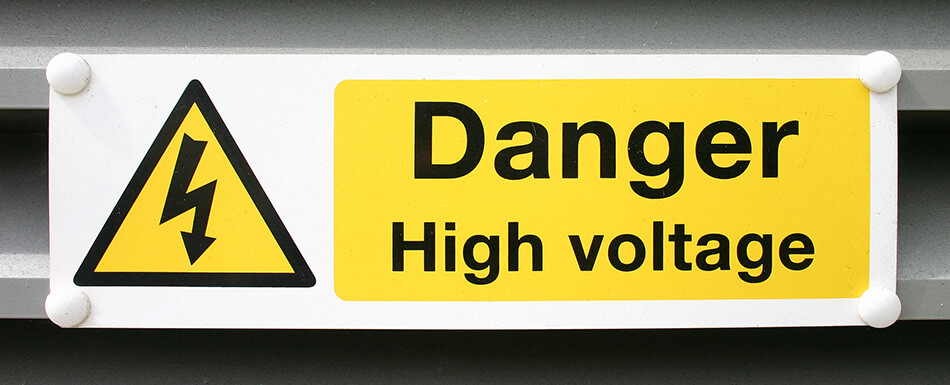 Protection Against Falling Objects – One of the biggest causes of foot injury is something landing on them. Safety boots will help protect against impact and the reinforced toe cap will also allow you to release your foot easily should they become trapped under something.
Protection Against Punctures – Ensuring you choose the correct outsole is paramount, especially if you work in an environment where it's easy to stand on sharp objects such as glass or scrap metal.
Protection Against Cutting – If your job involves using machinery to cut things such as logging machines or other tools such as chainsaws, it's important to wear the right footwear to protect against accidents. Some safety boots are made specifically for these kinds of jobs and are made from materials that are cut-resistant.
Protection Against Electrocution – This may sound like an odd one, but some work environments can pose a risk. An accumulation of static electricity can cause shocks so a pair of conductive work boots will reduce the amount of static electricity within the body. On the flip side, someone that works with electricity directly may opt for non-conductive safety boots as these will prevent an electrical charge entering the body.
Protection Against Slipping – Wearing safety boots with appropriate outsoles will prevent you from slipping and causing injuries elsewhere on your body. It's important to make sure the correct kind of outsole is chosen based on the environment you're working in. They will also help with grip if you're climbing ladders or in and out of machinery.
Protection Against Burns – Suitable safety boots can help to prevent serious burns, especially if you work in an environment where molten metals or harmful chemicals and substances are present.
What They're Used For
Safety shoes are used for all manner of jobs that require foot protection. From kitchens to construction, warehousing, and factory work, safety boots or shoes might be required. However different safety footwear is made to suit different conditions. All safety shoes are graded for compliance to certain criteria, depending on the type of conditions they're created for. Most safety footwear can be identified easily with specific symbols that are often found on the sole. Below is a breakdown of the standard European symbols and classifications used to grade safety footwear:
| Rating | Safety Factor |
| --- | --- |
| SB | A toe cap capable of withstanding an impact of up to 200 joules. This is the basic level for safety footwear. an example includes Safety Jogger Mars-EH SB Safety boots. jumper-EH SB |
| S1 | A toe cap capable of withstanding an impact of up to 200 joules as well as a fully enclosed heel and anti-static properties within the sole. |
| S2 | A toe cap capable of withstanding an impact of up to 200 joules as well as a fully enclosed heel, anti-static properties, and water-resistant. |
| S3 | It the same as S2 plus penetration resistance and a cleated sole. samples include safety jogger bestboy, safety jogger bestrun |
| S4 | 200-joule toe cap protection and all rubber or polymeric out-sole and upper with anti-static properties and energy-absorbing insole. samples include safety jogger poseidon |
| S5 | The same as S4 plus penetration resistance and cleated outsole. |
There are also a few variations on these standard classifications:
| Rating | Safety Factor |
| --- | --- |
| SBP | A toe cap capable of withstanding an impact of up to 200 joules and a penetration-resistant mid-sole. samples include safety jogger Raptor, safety jogger Rocket |
| S1P | The same as S1 but with an additional penetration-resistant mid-sole. |
| S2P | As with S2 but with an additional penetration-resistant mid-sole. |
You can find out more in our guide to safety shoe rules and regulations. Some safety shoes and boots will also have additional benefits that should be considered when choosing the right footwear, below are a list of these additional features:
Heat Resistant
Heat Resistant Outsole
Steel Midsole
Composite Midsole
Non-metallic
Metatarsal Support
Electrostatic Dissipative
Cut Resistant
Foundry Footwear
Waterproof
Recycled
Slip-resistant
Wide Fit
If you're working in an environment that can be slippery underfoot, it's important to make sure you choose the safety shoes that will give you the right amount of protection against any slip hazards. There are also three classifications for slip resistance:
| Rating | Safety Factor |
| --- | --- |
| SRA | Safety footwear marked with this has been tested on ceramic flooring using a sodium lauryl solution (typical of all diluted commercial cleaning products). |
| SRB | This means the shoes have been tested on a steel floor using glycerol (typical viscosity of food sauces and other viscous liquids) |
| SRC | Safety footwear marked with this has been tested and conforms to both of the above. |
Conclusion
In the interest of health and safety, wearing protective footwear whilst at work is commonplace these days, but choosing the right safety shoes for you is also extremely important if you're to get the level of protection right. Using our handy guide to choose the right work boots will ensure you're putting your feet up at the end of a long day.